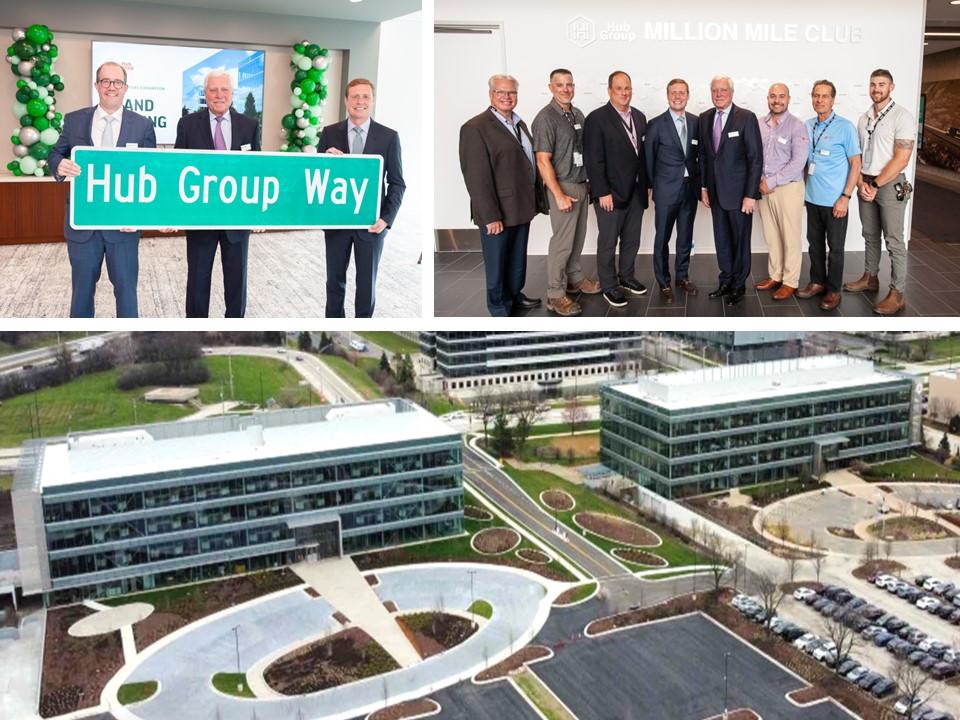 MORGAN HARBOUR COMPLETES SECOND HQ OFFICE BUILDING FOR HUB GROUP IN OAK BROOK, IL
(Willowbrook, Illinois) – Morgan Harbour Construction announces that construction is complete on the new 135,000 square foot, four-story office build-to-suit for Hub Group (NASDAQ: HUBG) at 2002 Hub Group Way in Oak Brook, Illinois. The new building is the second phase for the headquarters complex for Hub, a leading supply chain solutions provider.
The second office building represented the planned expansion of the headquarters facility on the 29-acre site located along the I-88 Tech Corridor.  Morgan Harbour constructed the replica building featuring open work areas, private offices, conference rooms throughout, fitness center, and the installation of Hub's signature brand of green intermodal containers to form a unique inner space for collaboration. Both buildings are connected via an underground walkway tunnel. Sustainable building features include high-efficiency HVAC, energy efficient lighting controls and storm water harvesting.
The first building was completed by Morgan Harbour in 2014 and at the time was the first new office building in Oak Brook since 2000. Both buildings received LEED® Gold certification from the U.S. Green Building Council and feature underground parking, natural habitat landscaping, ponds and walking trails.  The initial building was also named among Chicago's "Coolest Offices" by Crain's Chicago Business.   "We were once again excited to work with Hub Group in completing the second phase of their suburban Chicago headquarters," said Dan Hession, Chief Marketing Officer and partner of Morgan Harbour. "The new building doubled their footprint and showcases a full-glass exterior that exemplifies their corporate focus on sustainability."
"Hub Group's customer-focused approach led to sustained, long-term growth, especially as we continue to innovate with technology," said Hub Group's CEO, David Yeager. "Morgan Harbour was instrumental in helping us achieve an expanded headquarters campus that is positioned for future growth and innovation as we scale our growing business."  Solomon Coldwell Buenz provided architectural design services. A Grand Opening and Dedication of Street for the newly named Hub Group Way was held on July 14 to officially celebrate the opening of the new office.
About Morgan / Harbour Construction
Morgan Harbour Construction (MHC) is headquartered in Willowbrook, Illinois with regional offices in Kenosha, Wisconsin and Hamilton Township, New Jersey.  Our design-build firm specializes in ground-up construction and tenant improvements for office, industrial, medical, municipal, and business aviation clients.  For more information visit morganharbour.com.
About Hub Group
Hub Group offers comprehensive transportation and logistics management solutions. Keeping our customers' needs in focus, Hub Group designs, continually optimizes, and applies industry-leading technology to our customers' supply chains for better service, greater efficiency, and total visibility. As an award-winning, publicly traded company (Nasdaq: HUBG) with $5 billion in revenue, our 6,000 employees and drivers across North America are always in pursuit of "The Way Ahead" – a commitment to service, integrity and innovation. For more information, visit hubgroup.com.